Funko Preview: Bubble-Gum Freddy Funko Hikari
Funko Preview: Bubble-Gum Freddy Funko Hikari
COMING SOON! Bubble Gum Freddy Funko Hikari
Funko-Shop.com Exclusive- $50.00 – Limit 1 per customer
You've seen him a million times in Pop! figure form. You've even seen him driving his famous Pop! Ride. Now, you can see Freddy Funko like you've never seen him before: as an Hikari bubble gum vinyl figure!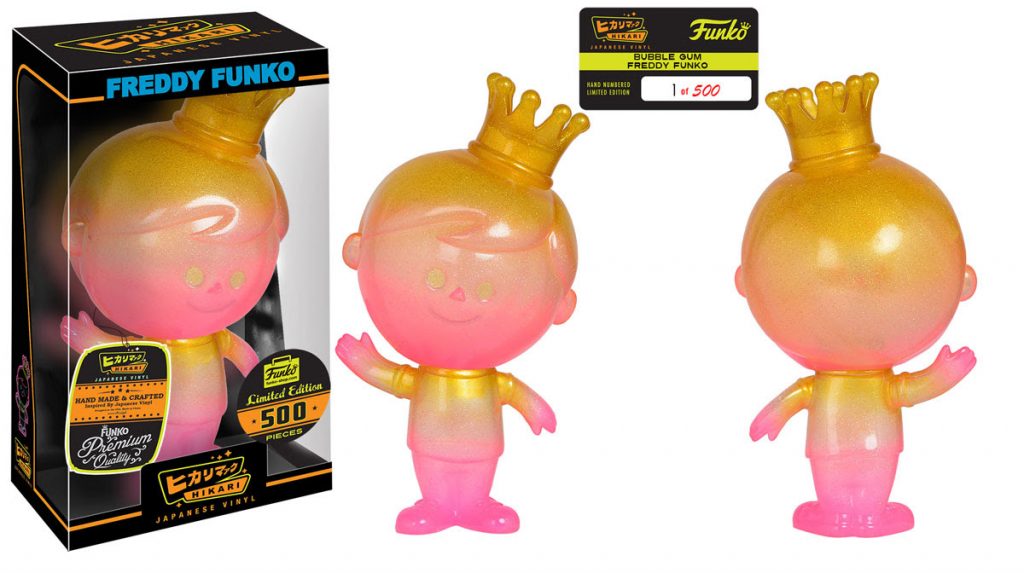 The figurehead of Funko himself, Freddy Funko, gets his first Funko-Shop.com exclusive Hikari to date: Bubble Gum Freddy Funko. Put a classic Japanese spin on your favorite toy company's mascot, with this super bright n' shiny bubble gum vinyl. Freddy Funko glimmers proudly with his clear and gold sparkle finish and bubble gum pink coloring.
According to Funko News, "The Bubble Gum Freddy Funko Hikari is a Funko-Shop.com exclusive and is a limited edition of 500 pieces." So, collectors: make sure to hop onto Funko-Shop.com soon. Scoop up your bubble gum exclusive beauty now, before the other 499 disappear!