Batman #35
Batman #35
Pros
Tom King gives us a beautiful duel of wits and swords between Talia and Catwoman
Joelle Jones comes into her won with a beautifully drawn issue
Jordie Bellaire again picks the perfect shades to make the duel "pop" off of the page
Closure to the murder charge story point
Damian and Dick's "buddy movie" subplot
Cons
Batman is really a bystander and doesn't do much at all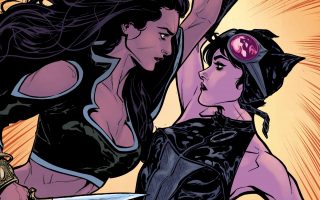 "The Rules of Engagement" - Part 3
Writer - Tom King Artist - Joelle Jones Colors - Jordie Bellaire Letters - Clayton Cowles Cover - Joelle Jones and Jordie Bellaire
This week, " The Rules of Engagement" continues as Batman and Catwoman continue their trip to visit Talia, though it turns out Catwoman has some business too. Previously, Talia greeted Batman with a sword to the shoulder. Catwoman grabbed the sword out of Batman's back and prepares to face off with Talia.
And, that's where we pick up and spend the majority of this issue, with Talia and Catwoman dueling. Talia and Catwoman banter back and forth for the entirety of the fight, with Talia trying to tear Catwoman down and Catwoman explaining to her that she loves Batman not only despite, but BECAUSE of his flaws.
At the end of the duel, Catwoman spies to reason she came here. Her former friend Holly, who she took the fall for, allowing her to escape, fled here and has been protected by Talia. She asks Holly to confess, absolving her and allowing her to marry Batman.
The second plot weaving through the issue deals with Nightwing and Robin trying to come to terms with what has happened.
As the issue ends, Batman and Catwoman emerge, finding Robin and Nightwing waiting. Damian asks Batman is he's happy and he says he's "getting there."
Tom King continues to show how good he is at getting into the heads of the characters he writes. The banter between Catwoman and Talia is sparkling, with just the right amount of condescension from Talia and the perfect of amount of smartass response from Catwoman. The side scenes between Damian and Nightwing also serve to further the relationship between these two, as they try to work on wrapping their heads around the situation. The heartwarming reunion scene with Catwoman and Holly is also very touching. I also think that the best part of all of this is that Batman is basically a bystander to the whole duel. Again, kudos to Mr. King for a superb writing job.
Also, after a somewhat rocky first issue, Joelle Jones, I am happy to say, has not only redeemed herself, but has proved herself as more than worthy of being on this stellar creative team. Her figures are wonderfully drawn and the swordfight comes to life before your eyes. Of course, all of this is helped along by the always perfect color selection of Jordie Bellaire. The palette chosen for this issue could not be more perfect, with a mixture of blacks, blues and purples that perfectly fit the scene, making the silver of the swords all the more striking on the page.
IN THE END: This issue was basically taken over by the duel, between Talia and Catwoman, though to be honest, the way it was presented, I could have read another 10-15 pages of it, at least. Beautifully done, and great to see Talia take center stage again. A really fun issue which is definitely worth a look.