Batman: Prelude to the Wedding – Harley Quinn vs. The Joker #1
Batman: Prelude to the Wedding - Harley Quinn vs. The Joker #1
Pros
Death traps that would be right at home in the '66 TV Series
Great story delving into the psychological aspect of Joker and Harley's relationship
Lots of humor
Cons
The shipping schedules means what should be a shock ending falls flat
Summary
Till Death Do Us Part Writer - Tim Seeley Artist - Sami Basri Colors - Jessica Kholinne
It's time for the final of the Prelude to the Wedding one shots, and they have saved teh biggest face off for last. Harley has gotten wind of the Joker's objection to the Marriage of Batman and Catwoman, and she refuses to allow him to stop her friend's chance at happiness. So, she does what any psychotic former girlfriend would do, she kidnaps the Joker and puts him into a death trap.
The problem with this, unfortunately, is that she's not very good at it. In fact, some of them seem like they'd be more at home in an episode of the '66 TV Series. There are three of them in total, and each is more involved than the last.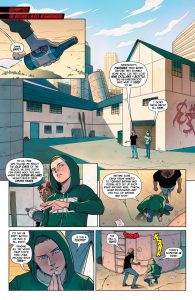 The first one is being drown in teeth, which the Joker escapes by scratching through the rust to find the release button with a toothbrush. The second is being drowned in a giant vat of Tapioca Pudding (Puddin', get it?) and the third is a fairytale trap involving a "woodsman" with an axe.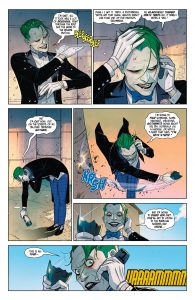 The hilarious part is that Harley knows Joker will escape, so she's right there to trap him again, in comically amazing faction, I might add. After he escapes the first trap, she hits him with a car, and then knocks him out with her hammer. After he escapes the second trap, he's a little angrier, so they throw down. Harley delivers an amazing kick to his jaw, and then pins him down and knocks him 0ut.
The whole point of this, by the way, is to make the Joker understand what it felt like to be Harley in their relationship. I can't help think there might have been an easier way.
Anyway, when we get to the third trap, we discover why Harley doesn't use elaborate death traps. It turns out, she obsesses too much about the little details and doesn't pay attention to the big picture. The Joker exploits this by convincing the "woodsman", actually a former henchman of Joker, to side with him. He quickly turns the tables on Harley and leaves her, unconscious, but alive.
He tells her that he knows she will want to come back to him someday, and he hopes she will know what it's like to be without an invitation. See what they did there?
Anyway, this is where the biggest problem with this issue comes in. The Joker finds himself with a gun in front of a Church, and a horrible idea blooms.
The problem with this ending is that most of us have already read the two part story that follows, in Batman #48-49. And, if you haven't, you should. But, it kills all the suspense that this ending would have had, because we have already read the outcome. So, seeing this panel, we already knows what comes next.
None of this is the fault of Tim Seeley, however. He did an amazing job with this much anticipated face-off. I loved all of the exploration of the psychology behind the Joker/Harley relationship. Again, I just wish the great ending wasn't spoiled by the timing of the series. if the release of this series had been timed to coincide with the story in Batman, it would have been something truly rare and special, because Batman #48 picks up right where this issue leaves off. Sill, Tim Seeley did an amazing job with this series, telling five very different stories, with five very different pairs of adversaries, while also advancing the overall Wedding story in little vignettes. Not an easy task.
Of course, as in all comics, story is nothing without art, so here again, Tim Seeley has the good fortune to have a fabulous art team to bring his vision to life. Artist Sami Basri and Colorist Jessica Kholinne do a great justice to the demented duo of Harley and the Joker.
THE WEDDING IS NEXT!
IN THE END: They say timing is everything. And, that is definitely the case here. The story is good, but since we already now what happens, what should be a shock ending falls flat.