Batman: Prelude to the Wedding – Robin vs. Ra's Al Ghul #1
Batman: Prelude to the Wedding - Robin vs. Ra's Al Ghul #1
Pros
Beautiful story by the fantastic Tim Seeley
Great character moments between Catwoman and Damian
A look at one of the passed over aspects of the whole wedding situation
Cons
Not really much of a fight between Ra's and Damian, more of a philosophical showdown
Epilogue only really serves as reminder that the Joker's return in imminent
Summary
Part One: From This Day Forward Writer - Tim Seeley Pencils - Brad Walker Inks - Andrew Hennessy and Mick Gray Colors - Jordie Bellaire
It is an unwritten rule in comics that a major event, such as a wedding between two characters, cannot happen without some sort of complimentary, but ultimately extraneous, tie-in miniseries or one shot. In the case of the upcoming Wedding of Batman and Catwoman, which we know will take place on July 4th in the pages of Batman #50, that role is filled by the 5 part miniseries Batman: Prelude to the Wedding. Each issue will feature a different member of the Bat-family taking on a villain who is Bat-villain who fits in with the wedding theme. In this first issue, it is Damian taking on his grandfather, who happens to be Ra's Al Ghul.
I have to be honest, I usually HATE this tie-in stuff. I very rarely buy all of it, and sometimes I don't buy any of it at all. It all depends on the storyline, and if I feel I need every little piece of story, to make sure that all everything fits together neatly. However, I have to admit the five face offs planned for this mini-series look intriguing.
This first issue takes a novel approach to the showdown between Grandfather and Grandson, with Ra's choosing to, of course, play dirty. He has Damian drugged early in the issue, and plays off the boys fears and insecurities, as Damian battles a foe named Aion, who claims to be the son of Bruce Wayne and Selina Kyle. The problem is, he doesn't exist. Damian, finally breaking through the impairment from the drug, realizes who is behind it all as Ra's Al Ghul appears in all of his glory. He talks about how unworthy a mate Catwoman is for Batman. Then he leaves Damian, after taunting him about losing his edge. Back at Wayne manor, Selina, who is returning from her Bachelorette Party, is confronted by Damian, who asks her if she and Batman plan of having children? Selina answers that she doesn't think she'd be so lucky as to have another Damian. By the way, in an interesting epilogue, it looks like the Joker is on a rampage trying to find out which other villains got an invite to the wedding.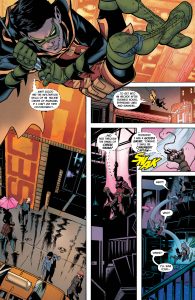 So, one of the other reasons I am more interested in this tie-in series than most can be summed up in two words: Tim Seeley. Anyone who has read any of his amazing run on the Nightwing comic that was relaunched as part of Rebirth knows exactly what I am talking about. His character development is extraordinary, and in this series, he uses those skills to flesh out a part of the whole wedding situation that has been overlooked simply due to other story points that had to take precedence, namely, how the rest of the Bat-Family feels about, and relates to Catwoman. The interaction between her and Damian in this issue is beautifully done, and gives you some rare insight into what these characters think of each other. It is a fantastic piece of writing and it tells a part of the story that the "main" title does not have time or space to focus on. I also like that a little epilogue, setting the stage for, and reminding people of, the Joker's impending return and involvement (which takes place this coming week in Batman #48).
Having gotten this first issue out of the way, I am very interested to see the other installments. The next issue should also be a great character study, as it features Nightwing taking on Hush, but should also feature Nightwing's mindset as he takes on the duties of Best Man. I, for one, would like to know where, and how, you throw Batman a Bachelor Party?
In the end, the beautiful character moments and the looming specter of the Joker are enough to make me want to see this one through. You should give it a try too.