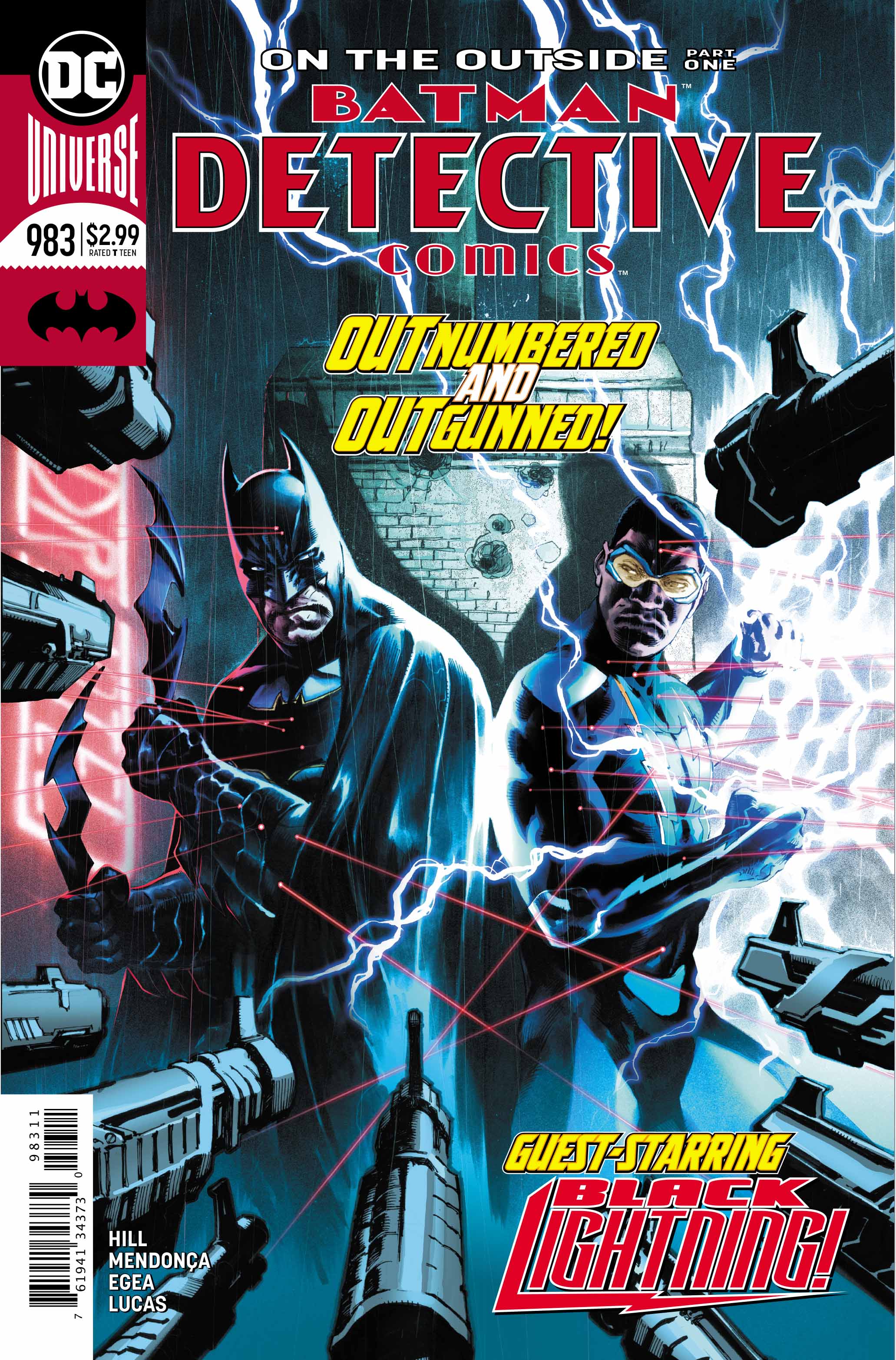 Detective Comics #983
Detective Comics #983
Pros
Return to continuity
A quiet scene with Alfred playing medic again is stunningly rendered
An intriguing and mysterious new adversary who knows Bruce is Batman
Awesome job with Black Lightning
Small scene with Martian Manhunter ties Detective to Justice League
Bryan Hill and the new art team are off to a great start
Cons
They are beating you over the head with the Oustsiders concept
Summary
On the Outside - Part 1 Writer - Bryan Hill Pencils - Miguel Mendonca Inks - Diana Egea Colors - Adriano Lucas
After a singe issue fill-in story to bridge the gap, Bryan Hill's run on Detective Comics finally begins. Let's see if it was worth the wait.
We are finally back on the continuity train this issue, going forward with the new status quo established by James Tynion IV at the end of his run on the title in issue #981. Batwoman, Azrael, Batwing, Red Robin and Spoiler have all struck out on their own paths. Orphan has remained in Gotham. That is where we stand as this arc begins.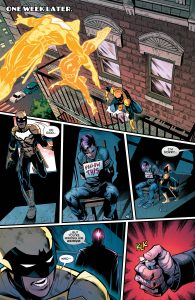 It's time, at last. for the mainstream debut of the Signal. Duke was one of the more intriguing new characters to come out of Scott Snyder's run on Batman, but he has really come into his own since he began his training under Batman in the backup story of All Star-Batman, resulting in the eventual revelation of his metahuman powers in The Forge, one of the lead-up books to Metal, and his full transformation into the Signal. He became Gotham's daytime crime fighter in the pages of the Batman and the Signal miniseries. Now, he is ready for more mainstream exposure.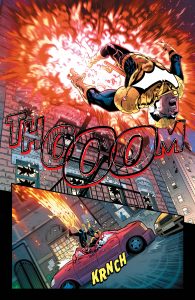 So, it seems only fitting that the opening sortie of this issue sees him being blown up. It's almost as if to say, welcome to the main event. You wanna play with the big boys? Here you go. And so, Duke, like so many before him, finds himself on the Batcave medical table. And Alfred, ever faithful, finds himself stitching up another young ward. But, dare I say, the recent events in Detective have made Batman care a little more about his remaining charges. He makes an effort to console Duke, even HOLDING HIS HAND! It is a great little nod to the fact, that his "team experiment" did, in fact, have an impact on Batman.
Now, as to the WHY of Duke's predicament. Duke was investigating the kidnapping of a kid who runs the biggest Batman fan channel on the Internet. He finds the kid tied up, but is ambushed by a new villain, who claims that "you're making him weaker.", then blows the building up.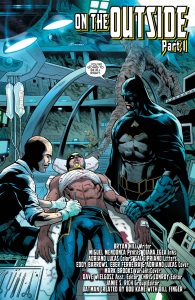 This new adversary, who is calling himself Karma knows Batman, but, more importantly, he knows that BRUCE WAYNE IS BATMAN! He also says Batman has saved him before and now he wants to return the favor. I'm very interested to see who this turns out to be.
He is advancing an argument that all of Batman's allies are making him weak. This is an argument put forth before, by no less than the Joker himself, in Scott Snyder's Death of the Family storyline.
There is a second plot thread in this issue, and it concerns a hero that I do not know much about to be honest. Apparently, Batman wants to recruit Black Lightning to train a team of young heroes he is putting together.
I love the way Black Lightning is introduced here, with the scene switching between his crime fighting night job and School Principal day job. It's also interesting because Black Lightning operates in Metropolis, and you don't normally think about crime in Metropolis because of that OTHER hero from there.
Anyway, Batman makes his pitch to Black Lightning and leaves. Meanwhile, this new villain decides he wants to poke the hornet's nest, and goes after Orphan. This will, inevitably, be bad for one or both of them. We'll have to wait two weeks to find out which one.
Obviously. the whole point of this arc is the debut of the newest version of the Outsiders, Batman's "covert" team. The Outsiders were designed to take care of the situations the Justice League couldn't get involved in because of their public status. And, it must be a MAJOR part of plans going forward, because they are BEATING YOU OVER THE HEAD with the concept, to make sure you are onboard. I mean, the arc itself is named "On the Outside." I don't know how much plainer it can get. However, I am all in favor of this new team if it means larger parts for Orphan and Duke. I'm excited to see who else is on it.
This issue is the Detective Comics debut of writer Bryan Hill, and although he has a long way to go to live up to the stellar run of James Tynion IV, this issue is a very good start. We get our connections back to the previous arc, but we also get intriguing new characters and developments. Hill seems perfectly at home in Gotham, and I hope he is planning an extended stay. I love the short scene with Martian Manhunter that ties Detective to Justice League, and establishes the groundwork for the relationship between the League and Batman's new team of Outsiders.
The art team has also changed, but there is need to worry. The new team of Miguel Mendonca (Pencils), Diana Egea (Inks) and Adriano Lucas (Colors) seems aware of the very big shoes left by Eddy Barrows, and they seem committed to doing their very best to attempt to fill them. To that end, the battle scenes, set pieces and figures are impressively rendered and there are several standout panels. My favorite is the detailed scene in the Batcave, as Alfred removes pieces of glass from Duke's skin with tweezers. Black Lightning's powers are also beautifully captured.
IN THE END: All the worry about the new team on the book proves to be much ado about nothing, as Bryan Hill and the art team craft a new tale involving a mysterious adversary that is suspenseful enough to keep me hooked on the book and waiting for the next issue.