Funko Pop! Movies Dr. Strange Figure
Funko POP! Movies - Dr. Strange
Pros
Precise and throrough paint application
Strange's animated Cloak of Levitation
Highly detailed sculpting
Cons
No "magic power" pose
Eye of Agamotto could be bigger
No figure stand
Funko Correspondent Benjamin David returns with a review of Funko's Dr. Strange Movie Inspired Pop. Let's see what he thinks of it.
A Mystical New Dimension of Pop!- Reviewing Funko Pop! Movies' New Dr. Strange Figure
Prior to last week, I personally could not claim fandom of Dr. Strange. I never read a Strange comic, saw anything animated, nothing. Then, I saw the new movie. I also bought this Dr. Strange Pop! that very night, right before seeing the film. Now, I can say for sure: I am a fan of the Strange things I've seen
PAINT
Paint and coloring on this figure are excellent overall. Though, interestingly, most of the paint application to write home about is not on the head of this bobblehead. It's on Strange's body/clothing and his magic-carpet-like Cloak of Leviation. But while we're on the subject: from underneath, looking inside the hollow signature Pop! Bobblehead, you'll see that the inside coloring matches Dr. Strange's skin tone on his face. In terms of color strategy, this is a better move. This, as opposed to having to paint a lighter skin color over the brown coloring of his hair. Many times, I've seen Pop!s do that: paint a lighter color, usually skin, over a darker piece of vinyl. Not surprisingly, it causes translucency in the paint job and looks incomplete. This Strange Pop!, however, does not have to worry about these issues of paint. Most color changes on the head are from the vinyl pieces themselves, each one almost seamlessly glued and clicked into the next.
The paint jobs to really behold are on the classically Strange features: the brown underside of his Cloak of Levitation, and the shiny green and gold Eye of Agamatto amulet. Looking at it from both the front and back, the bottom part of the cloak happens to be my favorite feature of this figure. And, I think the paint application helps drive my favorite point home here as well. It's clear that there was a thorough and thick coat of brown applied to the maroon vinyl of the cloak. Again, no translucency of color here, save a negligible spot toward the tip of the bottom corner. The green center and surrounding gold on the Eye of Agamatto amulet is impressively clean. You'd expect at least a spot of bright gold somewhere on the dark blue outfit under it. But, all colors are within their lines.
SCULPTING
Starting at the top, Strange's hair and goatee both look great. His head of hair flows and parts nicely, and his goatee has precise hair work on it as well. Going back to color, they even included the clever touch of gray streaks on the side. Excitingly, Strange's outfit and Cloak of Levitation have all the necessary Dr. Strange bells and whistles on them. I think the lower cape area of the cloak is my favorite part of the whole figure. True to the film, it's sculpted to look animated and alive, curling and flowing to the figure's left side. Even though the cloak from the figure is obviously still, it's nonetheless a very effective portrayal of something animated, in motion. This effect impressed me.The top, back part of the cloak is also accurately imitated from the movie: a swirling, almost brain-like network of lines etched into it.
ARTICULATION/ACCESSORIES
The only thing close to articulation on this Pop! is the signature bobblehead. The bobblehead alone works great, but without a figure stand, a figure this top-heavy needs more foundational support. On his own, Strange stands up just fine, however, once you tap his head for a bobble, he tends to tip backward. For a figure designed to bobble, it's just a slight disappointment that he has trouble remaining vertical while doing so.
There are no traditional accessories for this Strange Pop! to hold. This lack of accessories alone does not bother me, namely because of the character's abilities/superpowers. I say no "traditional" accessories, because much of Strange's power and spectacle is drawn from his magical cloak and Eye of Agamatto. Neither of these are things Strange wields by hand. Briefly, the origin story of Dr. Strange is about a prominent surgeon who loses control of his hands, but is still able to save people using magic. He is now able to use his bare, physically damaged hands to channel the Sorcerer Supreme within. Since he channels his powers in such a way, my criticism is that he should be posed making a more magic-summoning hand gesture. And going back to the power and importance of the Eye of Agamatto, why is it so small on this figure? I think it should be more conspicuous, and be as prima face powerful as his animated cloak. Instead, the figure's amulet holding the Eye is small, and barely noticeable under the expectedly oversized bobblehead.
FINAL THOUGHTS
For this Strange little figure, I would say the most important aspects of any figure–sculpting and paint– are beyond criticism. Again, my only two criticisms are (1) no figure stand, and (2) his accessories and posing. The former I wouldn't criticize as harshly if this was a bobblehead that didn't actually bobble. Some Pop!s' heads don't actually bobble, but this springloaded one does. So, if it gets knocked over almost every time, doing the one and only thing it can actually do? I think it's fair to criticize. A small figure stand would have completely solved this problem, providing solid foundational support from all the bobbling.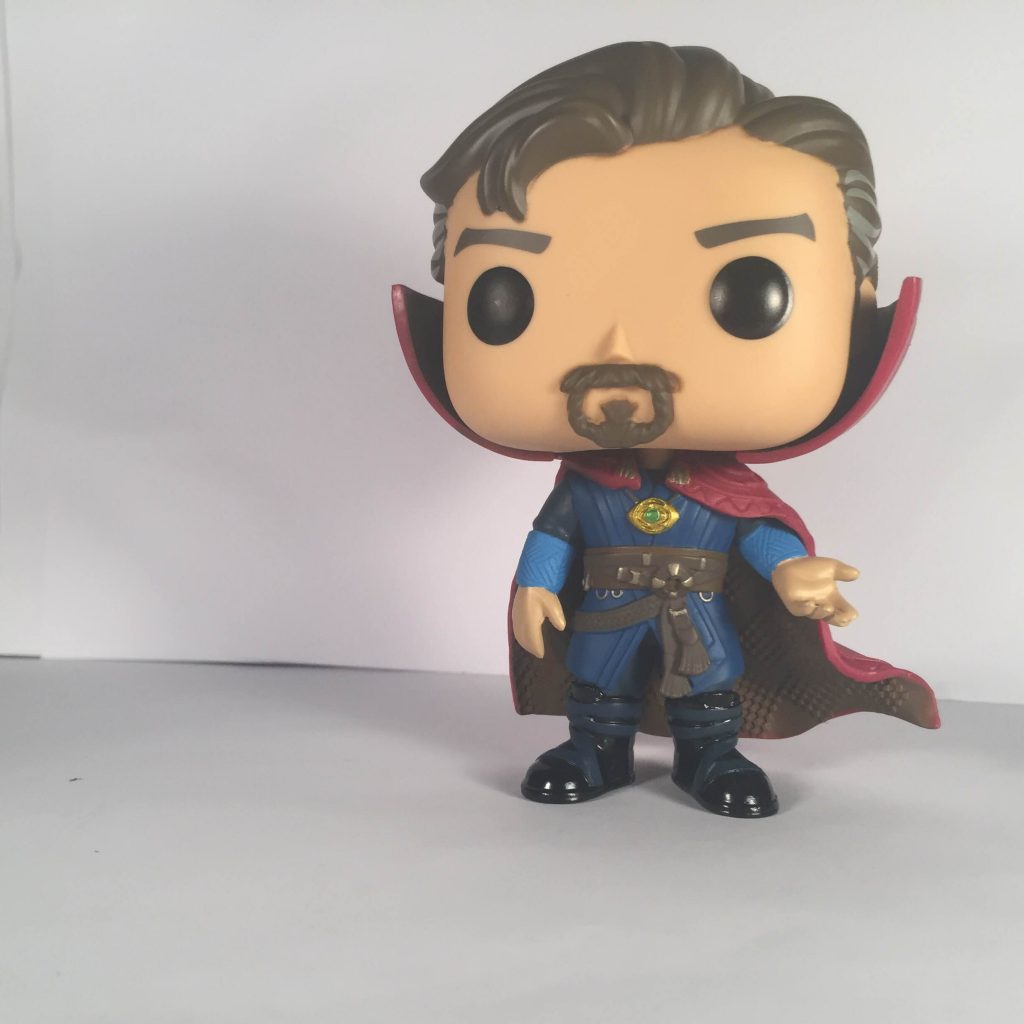 I lumped accessories and posing into one criticism, because I think they are one and the same for the character of Strange. Again, not having an accessory in-hand is fine, as long as it is made up for in some way. In the case of Strange, the character's magic wielding hand gestures should have a similar effect to that of a different character with accessories. I.e., accessories help explain who the character is, showing the things they possess and what they can do. Finally, for this same reason, I have a problem with the small size of the Eye of Agamatto. If we are going to compensate for a lack of traditional accessories with things that Strange is wearing, then accentuate these things. They did so with the cloak design. Why not a powerfully magical amulet around his neck.