REVIEW: Batman: The Drowned #1 (METAL Tie-In)
Batman: The Drowned #1
Pros
Terrific Story
Beautiful art and color
The backstory of the Drowned elicits some sympathy
Aquaman cuts loose
Cons
Dr. Fate couldn't save Mera?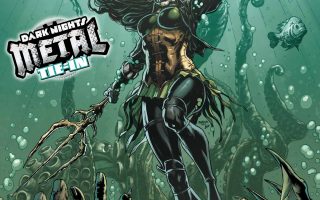 Rime of rhe Ancient Mariner
Writer - Dan Abnett Artists - Philip Tan & Tyler Kirkham Colors - Dean White & Arif Prianto Letters - Tom Napolitano
This week brings us the next of the "Evil Batman" one -shots: Batman: The Drowned. I'll give you one guess which of the Justice League members this one is based on? That's right, it's the Aquaman themed one. The twist this time around is that the "Batman" of this particular Dark Multiverse Earth is, in fact, a BatWOMAN. This is Bryce Wayne and, on her "Earth", She, like "our" Batman, waged a constant battle to "save" her city, but ultimately, she failed, and paid a tremendous price. Her love, SYLVESTER Kyle, died at the hands of Rogue Metas.
Like the other "Evil Batmen", this Dark Multiverse dweller has been handed emotional trauma, over and over, on a massive scale. She has lost her love, her city and, due to some neccessary genetic modification, even her humanity. She is tired and resigned to her life when the Batman Who Laughs comes and whispers in her ear, telling her of Amnesty Bay and the World of Light that causes her world to suffer. She sets off to take what she believes she deserves.
That leads her to Amnesty Bay. She rises out of the water like the Creature from the Black Lagoon. It doesn't take long for Aquaman to find her, and the battle is on. This is Aquaman at his most aggressive, and Mera isn't holding back either. Unfortunately, the water they're fighting in is contaminated by the dark water from Batwoman, so Mera's aquakinetic power doesn't work. The battle is brutal and Aquaman and Mera are overmatched, and that's BEFORE she calls forth the army of dead waters. Aquaman tries to send Mera to contact the Justice League, but The Drowned grabs her and forces her to merge with the dead water, turning her into one of her soldiers. As she prepares to finish Arthur, Dr. Fate's symbol appears and Aquaman vanishes. The Drowned lights her signal and prepares to begin again.
This wild ride of a story from Aquaman scribe Dan Abnett is another thrilling tale, with impossible odds being faced by the heroes of our world, as another of the Evil Batmen" is unleashed. Like the others, this one has a story featuring terrible loss and personal sacrifice. For the first time that I can remember though, I actually feel a tiny bit sympathetic towards this one. Kudos also to Mr. Abnett for "flipping the script" in terms of gender roles, making this "Evil Batman" an "Evil Batwoman" who lost her love, Sylvester Kyle. I love the action packed and brutal battle, which serves to show how much of a force to be reckoned with Aquaman can be when he is turned loose. Our "Batwoman" is equally brutal and you absolutely get the sense that this is a winner take all fight.
Art duties on this book are handled by the very capable team of Philip Tan and Tyler Kirkham, with colors by Dean White and Arif Prianto. The art is crisp, dynamic and expressive. The colors perfectly compliment the pencils and inks, with the depths of the seas of Earth 11 looking suitably murky, and a definite color difference being drawn between the water of Earth 0 and the "dark water" of Earth 11.
IN THE END: This is the first of the "Dark Batmen" I actually fell a tiny bit sorry for. This is an amazing feat of writing to elicit that sympathy. Make no mistake though, anyone who knows Aquaman can tell you: when you mess with Mera, there will be hell to pay. Great story, great art. A very enjoyable side chapter to the face melting epic that is Metal.