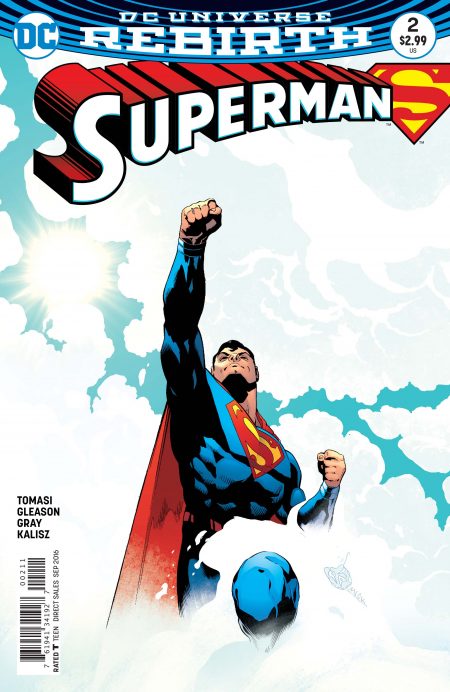 Superman 2 (REBIRTH)
Superman 2 (REBIRTH)
Pros
Superman continues to be a bright spot in the Rebirth lineup
Beautifully written father-son dynamic
Cons
The abrupt ending is a bit of a jolt
Peter J. Tomasi and Patrick Gleason's Superman continues to pull at the heartstrings and work as the anchor to Rebirth's character-driven stories, delivering a classic-feeling tale with very real ramifications as a new status quo emerges.
"Son of Superman," part two, follows our new Man of Steel and his young son, Jon, as they go off on a mission to save a submarine. Superman uses this time as a learning opportunity for Jon, who is struggling with his own powers. Last issue, Jon accidentally killed the family cat while trying to save him from a swooping hawk. Superman, of course, knows this, and knows all too well that his son needs to come to grips with his burgeoning superpowers.
This issue's well-written father/son dynamic works on a lot of levels and reads true to real-life relationships. At the heart of it, this is the story of a dad teaching life lessons to his son. Jon's going through some crazy-tough things in his life now, and as is his nature, his dad's doing everything he can to help.
But this is a Superman comic, so the creative team throws in a giant sea creature to ramp up the action. And it's here that the book really hits its stride. Tomasi writes a wonderfully paced story, splicing little character moments in between Gleason's huge, cinematic battle shots. When Jon panics and expresses trepidation about using his heat vision because it'll also hurt his dad, Superman assures him it'll be fine.
"You CAN do this," he says, in the middle of the slugfest, "You're my son!" Buoyed by this notion, Jon manages to save the day.
But he does so at a price, as the beams actually cut Superman's skin, leaving a small trail of blood behind. A small trail of blood that's picked up by…The Eradicator! The ending and its reveal are a bit rushed, but that's okay. This is a book worth your time and your $2.99, and it's a true high point of Rebirth.
Tomasi and Gleason's Superman is a book about the big stuff in life–growing up, coming to terms with change, facing mortality–but it's also about all the little things that come in between. And in the world of mainstream superhero comic books, finding those two things all in the same place is exceedingly rare.
Kudos to the creative team on a fantastic title, and I look forward to next issue.