LEGO Ninjago Movie Sneak Peek
LEGO Ninjago Movie Sneak Peek
LEGO was kind enough to share a "Sneak Peek" of their upcoming tie-in line for the LEGO Ninjago Movie, ahead of the announcement of the full line tomorrow. We have been invited to share with you information on the following five sets, in addition to some stills from the movie. Enjoy!
70612 Green Ninja Mech Dragon – Outwit the Green Ninja's evil father Garmadon with this mighty mech featuring articulated snapping jaws, poseable body, wheel-activated swooshing tail, 2 leg-mounted stud shooters, hidden pop-out thrusters, 4 minifigures with assorted tools- including The Green Ninja's sword and Garmadon's laser-style pointer.

$49.99
544 pieces
Available at specialty and mass retail stores, LEGO brand retail stores and shop.LEGO.com
70618 Destiny's Bounty – construct Wu's huge training base in this highly detailed set featuring 3 modular levels and a double-headed dragon, wind-up-and-release anchors, training dojo, bathroom and Wu's bedroom in the hull – not to mention many hidden secrets.

159.99
2,295 pieces
Available at specialty and mass retail stores, LEGO brand retail stores and shop.LEGO.com
70610 Flying Jelly Sub – Join Jay in battle against the shark army and protect Takuma's boat from flying Jelly Sub attacks. Sub features minifigure cockpit, boat, rotating legs, flick-fire missiles, swinging tentacles and 4 minifigures with assorted tools to add to the battle role-play options.

$29.99
341 pieces
Available at Walmart stores nationwide
70613 Garma Mecha Man – Help Lloyd protect civilian Pat from attack by Garma Mecha Man, featuring spring-loaded shark blaster, opening cockpit for Garmadon, ammo belt and fish tank.

$59.99
747 pieces
Available at Target stores nationwide
70616 Ice Tank – Help Zane save Patty Keys and Torben from the shark soldiers using this cool vehicle featuring an opening minifigure cockpit, big tracks, ice cannon with 6-stud rapid shooter, and a rotating ice container.

$79.99
914 pieces
Available at Toys"R"Us stores nationwide
Here are some stills from the film.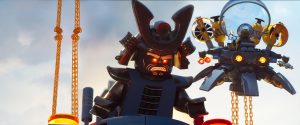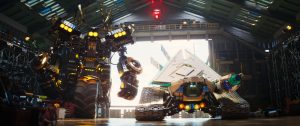 Stay tuned for more information on the LEGO Ninjago Movie coming soon.